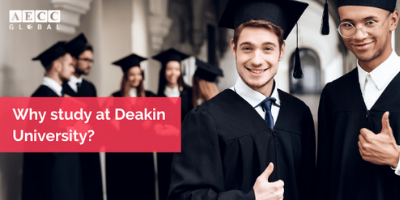 Studying at Deakin University
If you want to study engineering, you will benefit from its cutting-edge digital manufacturing in the Centre for Advanced Design in Engineering Training (CADET).
If you choose media as your career, you will enjoy the opportunity to refine your skills in its industry-standard newsroom and creative media lab.
If you want to excel in nursing, you can practice in their Clinical Simulation Centres.
Wondering where you can attend all these world-class courses? 
It's at Deakin University!
Deakin University was established in 1974 and named after the second Prime Minister of Australia, Alfred Deakin. Deakin is Australia's first university to start its distance education. Also, it secured the 16th rank on the QS Australia University Rankings list 2020 and is one of the best universities for international students in Australia.
With hundreds of courses spread across five great campuses and flexible study options, you can choose a path that suits your lifestyle while pursuing your future goals. 
As we move into an increasingly digital future, Deakin has invested in the latest technology, state-of-the-art learning tools, and facilities to ensure International students are equipped with the skills and knowledge required for the jobs of tomorrow. 
Apart from a quality Australian degree, Deakin has so much to offer for international students.
Digital leader
Deakin University is well known for its digital innovation. The cutting-edge technology is used to provide personal and flexible learning experiences for the students. This includes managing your course requirements, finding your way across campus, Knowing your day-to-day assignments, and accessing your schedule, all at the touch of a button with a personal digital assistant app called the Deakin Genie.
A Sports-friendly university
Deakin is one of Australia's leading universities for sports. It is a proud member of the Elite Athlete Friendly University (EAFU) network. With the EAFU program, elite athletes do not have to give up their sports aspirations; they can pursue their regular academic activities and practice sports at the same time. 
Smart Campus & Cloud learning
Deakin has four modern campuses that are well equipped to support student academic aspirations. The smart cloud campus represents itself as a digital frontier with its innovative online learning environment (Cloud Campus).
Deakin assured students that it would continue to deliver world-class education through its Cloud Campus (online). 
30% In - Country Bursary
An announcement has been made by Deakin recently that a 30% in-country bursary will be offered for Indian students who enroll for online studies before moving into the campus. The online classes should be in Trimester 3 beginning in November 2020 and Trimester 1 starting in February 2021. 
According to the Australian government's recent update, the on-campus classes are expected to commence in July 2021.
Want to plan your studies at Deakin but can't figure out how to begin? 
Kick-start your preparation with the DUELI Online Test. 
Here are the DUELI online test guidelines
This is a written test to be taken by prospective students for Nov / Mar intake.
The duration of the DUELI online test is 40 minutes and is conducted on a Zoom meeting. 
The student has to confirm the test's date, and they are contacted on the scheduled date and time. 
The On-spot topic is shared with students, and the student has to write 200 words about the given topic.
Post the test; the answer sheet is shared with the Faculty for assessment.
Once the assessment results are received, it is shared with the student and the respective consultant.
While it's exciting to leave your home country for your global education journey, you will need first to get a hold of the online test mechanisms. So, take notes of the section mentioned above and start your incredible study abroad journey with us!
---
By accepting you will be accessing a service provided by a third-party external to https://aeccglobal.com/